Transform Business Festival will return to Aberdeen on Tuesday 14th November 2023, following its successful inaugural year.
The festival, which is hosted at Aberdeen Science Centre, unites entrepreneurs, start-ups, and businesses of all sizes from across the region for a full day of interactive workshops, valuable networking opportunities and inspirational speakers.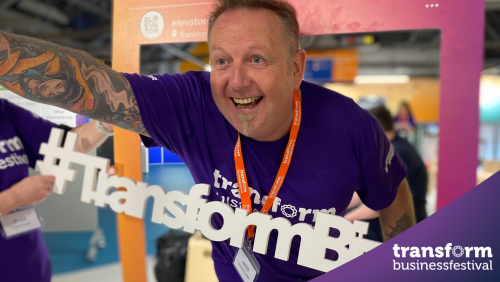 Delivered by business support organisations Business Gateway and Elevator in partnership with Aberdeen City Council and Aberdeenshire Council, more than 20 events will take place across the day, inspiring business leaders to thrive and seek out new opportunities.
The event will begin at 8am with an official festival welcome from Jamie Hutcheon, Business Gateway Manager and Gary McEwan, CEO at Elevator. The morning will continue with a 'Caffeine & Connections' session with Eric Doyle, Digital Commercial Strategist and TEDx Speaker, alongside Rose Owen, award-winning entrepreneur and Radical Honesty Trainer, which will discuss the importance of building your network both digitally and in person.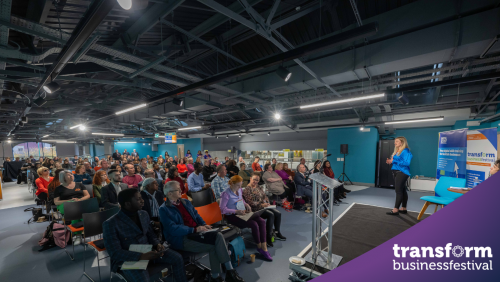 The festival's headline event welcomes keynote speaker Rob Law MBE, Founder and CEO of Trunki, the innovative company renowned for its captivating line of children's ride-on suitcases. Rob will share the highs and lows of his entrepreneurial journey, where he triumphed against the odds in both his personal and professional life. He will delve into the art of brand building, navigating the path to market success and establishing a presence in the dynamic world of entrepreneurship.
A programme of 'Bitesize Sessions' will take place, including navigating the road to net zero, in which local council representative Murray Wallace will discuss the circular economy. Other topics include using AI in practice, strategies for growth, and building skills for sales, all designed to enhance business owners' knowledge and confidence.
There will also be a series of 'Fireside Chats' hosted throughout the day, with industry experts including Mike Duncan, Development Manager for the Federation of Small Businesses and Bob Keiller, Chair of Our Union Street, addressing current issues facing business owners with an opportunity for questions and answers.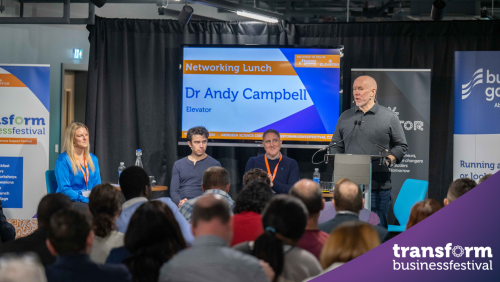 As part of the all-day activities, the Ecosystem Village, a dedicated area to interact and engage with key support partners in Aberdeen, will open its doors at 10am. Exhibitors include Shell Livewire, Federation of Small Businesses (FSB), CodeBase, Interface, ONE, Scottish Development International and many more.
The festival will also feature a dedicated Business Gateway client showcase area, where established clients who have benefited from the assistance of Business Gateway's support services, will be invited to celebrate their successes, inspiring the next generation of local entrepreneurs.
Hugh Lightbody, Chief Officer Business Gateway National Unit said: "Harnessing the potential of local business communities is key to Scotland's economic resilience and growth. The Transform Business Festival is a collaborative commitment between all the partners involved to support Scottish businesses, foster innovation, nurture talent and empower leaders."
Professor Gary McEwan, CEO, Elevator, commented: "We are delighted to bring back the Transform Business Festival, after a hugely successful first year which welcomed over 300 budding entrepreneurs. Supporting entrepreneurial talent, across Scotland, is at the heart of what we do at Elevator and our aim is to ignite, nurture, and transform the business journey of clients in the region. This year's festival is an excellent opportunity for business owners and entrepreneurs to come together, learn and connect."
Jamie Hutcheon, Business Gateway Manager, Aberdeen City & Shire, commented: "Supporting local businesses is important to our economy as they invest, employ and grow, which contributes to our regional economic prosperity. It is important that these businesses get the right support to allow them to succeed.
Events like Transform Business Festival are critical to bringing the ecosystem together, not only to celebrate businesses but also to support them, providing a platform for businesses at whatever stage they are at. I am delighted to work with our partners to deliver this event and support businesses and individuals on their own transformation journey."
Tickets for Transform Business Festival Aberdeen are free of charge and available to book now:
Click here
Back to all blogs