Businesses are being given the opportunity to support their growth through Shell LiveWIRE, a global entrepreneurship programme that is returning to Scotland thirty years after it was first founded.
Shell LiveWIRE is seeking small and medium enterprises who have a clear ambition for expansion but are experiencing hurdles on their journey.
The programme uses coaching and mentoring to help give participants the tools and confidence needed to progress; overcoming barriers, driving sales growth, customer volumes and ultimately expanding their workforce. The first stage of LiveWIRE 2023-24 will target businesses in Aberdeen and Aberdeenshire, before expanding into the central west of Scotland.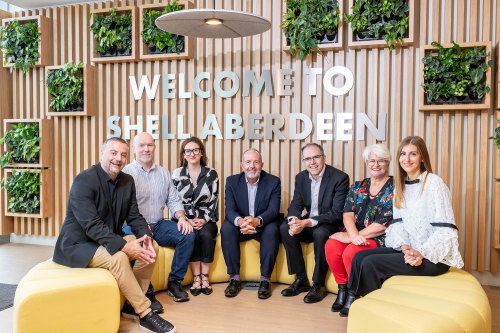 Now operating in 20 countries, this free initiative helps business founders and directors with key decision-making powers to access the skills, networks and resources required to drive innovation within their companies and beyond.
The programme's on-boarding process starts in December, with a roster of expert speakers scheduled to deliver inspiring and challenging workshops from January 2024 through to the programme's culmination in May with a celebratory event. Participants will also take part in residential challenge days, where they will work collaboratively with fellow entrepreneurs from 15 local businesses. Additional benefits to the cohort include opportunities to apply for significant grant funding.
The second cohort – focusing on businesses in the central west of Scotland – will launch in April.
Shell has appointed business support organisation Elevator to deliver the Scottish relaunch of LiveWIRE. Elevator has more than 20 years' experience delivering business and economic support services through links with regional councils, Scottish and UK governments and a network of partners.
Application Process
Programme & Events Operations Manager Karen Clark, who will head up the programme, said: "We'll be recruiting businesses that are looking to push through into the next stage of growth. They might have hit an obstacle or have a specific challenge to work through which we will encourage them to confront with a new innovation-focused mindset." 
Participating companies can be from any sector – from energy transition to food & drink, retail to finance – but must fit the following criteria:
Small and medium enterprises; from 2 to 149 employees.

Participants to have key decision-making powers.

Located in Aberdeen City and Shire (Central West of Scotland for follow-up cohort).

Clear ambition for growth, but facing an obstacle to that growth.

Must be two years+ and generating revenue (not a start-up).

Willing to commit to the programme time needs.
After registering their interest, suitable applicants will be invited to complete the full application process by Friday November 24. The challenge day will follow on Thursday November 30, while the programme's onboarding day will be held on Thursday December 7.
Partnership
Elevator CEO, Professor Gary McEwan, said its partnership with Shell, for an initial run of two cohorts across 2023 and 2024, is the perfect fit.
He said: "Our ethos is rooted in pushing entrepreneurs to achieve maximum potential, in turn delivering meaningful impact across communities. Combining this with the power of Shell LiveWIRE promises to supercharge that impact."
Simon Roddy, Senior Vice President of Shell UK Upstream, said:
"We are delighted to announce the re-start of Shell LiveWIRE in Scotland, our flagship global enterprise development programme. We know that programmes like these can act as a catalyst for progress, fostering connections, driving innovation and strengthening local economies by promoting entrepreneurship and meaningful employment. We look forward to working with Elevator UK to empower local enterprises to thrive".
Upon completion of the programme, the cohort will also benefit from access to the Shell LiveWIRE global alumni network Shell mentors and the company's prestigious competition Shell LiveWIRE Top Ten Innovators.
History
Shell LiveWIRE was first launched in Scotland in 1982 to address youth unemployment. Today it operates globally, strengthening local economies through entrepreneurship, innovation, and meaningful employment.
In 2022, Shell LiveWIRE trained over 2,600 people around the world and helped create more than 2,170 jobs. It supported 892 existing businesses and 145 new businesses, with 123 Shell LiveWIRE-supported businesses entering its supply chain in 2022.
Elevator aims to create an innovation-driven society that delivers personal, local and national prosperity and impact. Engaging with partners, founders and alumni, its vision is to ignite, nurture and grow entrepreneurial spirit for a thriving and inclusive society where people are empowered to transform their futures.
It operates across Scotland to help facilitate the start-up, acceleration and scale up of new and existing businesses through its unique range of Accelerators, Business Growth Programmes and delivery of Business Gateway services in multiple regions.
More information about the programme and application details can be found at www.shell.co.uk/about-us/sustainability/people-and-communities/LiveWire.html

Original Press Release issued on the 7th November 2023
Back to all blogs