Elevator: A Fair Work First Company
Elevator understands that our team are our biggest asset and we are committed to continuous improvement in line with Fair Work First criteria. We have taken the Scottish Business Pledge and know that it's essential that we cultivate an environment that ensures that knowledge, skills and abilities within our team are deployed to maximum effect in a fully equal and inclusive working environment. We believe in delivering transformational change and our vision is "to ignite, nurture and grow entrepreneurial spirit, for a thriving and inclusive society where people are empowered to transform their futures". Our goal is to build a better world for those people that that we work with, and this includes our clients and also our colleagues.
Our Fair Work First Policy reflects our unwavering dedication to providing a work environment that is inclusive, equitable, and supportive for all members of our team:
Staff Contribution – Effective Voices
Our 85 strong staff team are involved in decision-making opportunities and Elevator as a whole benefits from their ideas and creativity. Colleagues are regularly surveyed, are involved in senior strategy days and are invited to present to the Board to improve shared understanding between strategic and operational aspects. This has for example led to a number of new initiatives and benefits across the organisation including a proposal which became the spark for the creation of The Elevator Foundation. In addition, we have formal channels and regular meetings through which discussion and issues can be raised. We have guidance that allows for informal approaches and exploration to be made. No member of the Elevator team should feel silenced or that their views, ideas, concerns or suggestions cannot be aired, listened to and acted upon.
We want to ensure that all of our team feel empowered to contribute towards the growth of the business and importantly highlight those areas where improvement is needed. To that end, the entire Elevator team are welcome and able to join a Union of their choosing. We embrace any and all contributions for the greater good of the company and continually endeavour to ensure that all voices from all corners on any matter will be heard, embraced and empowered.
Training and Development
We are committed to the training and developing of our entire team from new start to executive leadership. We commit time and resources to this.
Our team are encouraged and supported to develop their careers with personal support and financial support. For example, we have financed university degrees which has contributed to several trainees developing into senior / director level positions.
Developing Young People
In addition to developing our own team, Elevator also works closely with the Prince's Trust, Young Enterprise Scotland and DYW to create opportunities for younger people, including placements within our own organisation through the Young Apprenticeship Scheme. In 2022, we launched the Elevator Foundation, our own charity which supports young people in becoming established entrepreneurs through our re-investment focus.
As part of our own commitment to fund aspiring entrepreneurs, we invite young entrepreneurs to attend the annual Elevator Challenge - an entrepreneurial boot camp fully funded by ourselves and to-date, some 250 participants have benefited from this.
Zero-Hours, Fire & Rehire and Living Wage
Elevator's Fair Working Practices preclude the use of zero hours contracts or association with umbrella companies. We also oppose the use of fire and rehire practices. We realise the employment marketplace can be a delicate structure and prone to exploitation. We ensure we implement policy and practice that strengthens and leads on fair workers' rights. Elevator is already an accredited Real Living Wage Employer.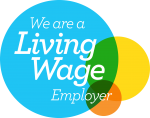 Equality and Diversity
When we recruit, we do so carefully, ensuring that new team members possess both the capability to do the job while adding something extra to our greater team. In this manner, we foster a continuous culture of excellence, where diversity is welcomed and where colleagues view Elevator as more than their employer. We hope that they see Elevator as a place for personal growth and development.
We have worked with specialist Radiant and Brighter to develop Culture and Ethnicity training in our company. This ensures that we integrate equality, inclusion and diversity as cornerstones of our delivery, engagement and culture.
We already have a multi-cultural workforce that reflects the diversity of gender, race and ages within our society. In addition to contributing to a working environment that benefits from wide ranging ideas and perspectives, we also have been able to deliver improved services including bespoke programmes for Polish, Arabic and Syrian communities.
Addressing Gender Imbalance
We are aware that a gender imbalance exists within the business community in Scotland. Within Elevator, 50% of our staff and Executive Team is female, a big reason being our flexible working and family friendly policies. Within our client base, we have worked hard over the past 10 years to encourage female entrepreneurship by delivering services designed for women and often delivered by our female advisers. This has, by way of example, increased female start-up numbers from 45% to 55% across Aberdeen City and Shire. We continue to work hard in partnership with several other organisations to encourage growth and investment opportunities for female entrepreneurs.
A Flexible Working Employer
All of Elevator's team have access to a flexible working package encompassing flexi-time arrangements such as 9 day fortnights, Community Connect time and additional holidays in recognition of length of service. This enables staff to enjoy a work/life balance that suits their individual circumstances while ensuring that our offices are fully staffed thereby maintaining the energy and vibrancy that has become the trademark of Elevator's delivery.
Staff Benefits
Our team access a range of benefits including private medical healthcare, optical / dental health cover, gym membership, worldwide travel insurance, enhanced holidays and discounts for local service providers.